At JSDance we cater to both the recreational student as well at those wishing to undertake more serious training. We are happy to give advice of the best option for your dancer but are sure to find what classes you are looking for on our timetable. Our classes are supported and structured around the following syllabi; RAD Ballet, Glenn Wood Tap, ATOD Jazz & Acrobatic Arts. Examinations are offered for Ballet and Tap but not compulsory. At the end of every year we do a concert so the students can showcase their hard work and progress.
Pre School Classes
Ready Set Dance
JSDANCE is proud to be an official location for READY SET DANCE, READY SET BALLET & READY SET MOVE. The Ready Set collective are innovative programs that introduce young children to the world of dance.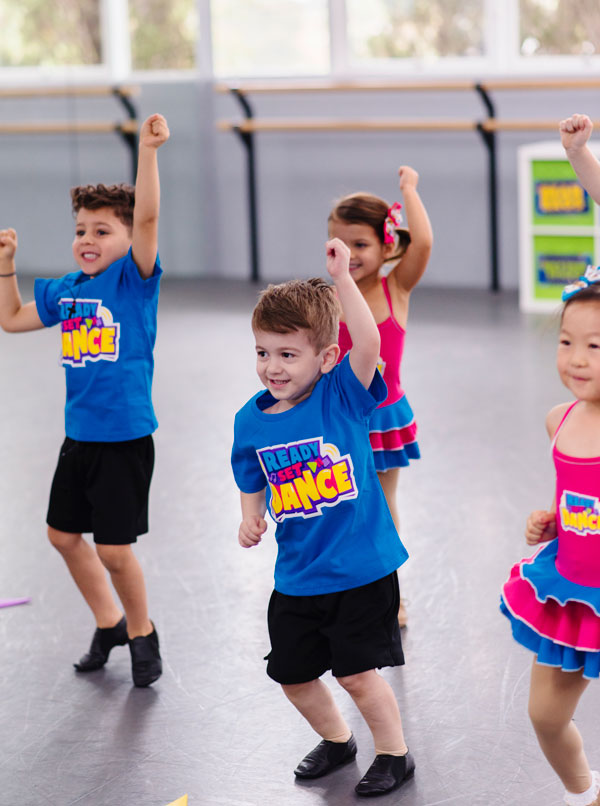 Jazz
Classes consist of warm up exercises followed by combinations and routines. Jazz classes are upbeat and energetic with a focus on kick, turns and body isolations. Technique follows the Australian Teachers of Dance Syllabus, Check out the Broadway Jazz Class for Musical Theatre training.  
Tap Dancing 
Classes consist of Warm up & Technique at the Barre and Centre Combinations. Students learn exciting technique relevant to their age & level such as turns, intricate rhythms and the ability to develop routines. Tap Dancing takes on specific technical requirements and is based on the Glenn Wood Tap.
Contemporary 
Contemporary dance is a style that explores the natural energy and emotions of a dancer through the use of floor work, partner work and other forms of dance technique. Can be undertaken from 10yrs+.
Lyrical
Smooth flowing style that requires core strength and technique crossing over both Classical Ballet and Jazz. The students will learn to express themselves through a variety of music that has them needing to slow down and work on stability
Hip Hop
Cool Street Style. This class has a fun warm up element each week with a huge variety of combinations and skills to learn.
Classical Ballet
The classes are designed to develop a good sense of technique in the students' as well as retain a strong sense of enjoyment. There is a focus on posture, poise as well as artistry.Royal Academy of Dance (RAD). Students are to attend 2 classes per week for examinations from a particular level upwards.


Boys Club
This class gives boys the opportunity to develop in a "Boys Only" atmosphere. This class consists of warm up exercises followed by hip hop and combination routines. This mixed age class also allows for mentoring amongst the students. Heaps of Fun!
Acrobatics
Tumbling, Floor Work, Flexibility, Partner Work. Learn to Flip, Roll, Bridge, Chest Stand and much more. Mats used for safety and under the guidance of a fully qualified coach you will quickly master these skills!
Catering to all Age Groups
Pre School Classes

READY SET DANCE, READY SET MOVE & READY SET BALLET

1.5-5 years
Junior Level

Jazz, Tap, Ballet and Acrobatics

6-8 years
Intermediate Level

Jazz, Tap, Ballet, Acrobatics, Hip Hop, Contemporary, Lyrical and Broadway

9-10 years
Senior Level

Jazz, Tap, Ballet, Acrobatics, Hip Hop, Contemporary, Lyrical and Broadway

11-12 years
Advanced

Jazz, Tap, Ballet, Acrobatics, Hip Hop, Contemporary, Lyrical and Broadway

13-14 years
Open Level

Jazz, Tap, Ballet, Acrobatics, Hip Hop, Contemporary, Lyrical and Broadway

15+ years